Welcome to GOLF CHAOS, the most fun you will ever have playing golf!
Here's How It Works
Up to 50 golfers play the same hole at the same time (which is why we call it Golf Chaos).

All holes are converted into Par 3 holes ranging from 100 to 150 yards in length. Takes 2 hours per 9 hole event.

$15(+tx) entry fee includes 9 holes of golf & cart with optional $10 skins pot and $5 hole-in-one prize fund. Hole-in-One prize pool accumulates event to event if there are no HIO's at an event. Think of it as the Power Ball of Golf.

5 golfers hit approach shots at the same time (so waves of 5 players at a time).

Everyone who misses the green chips to try and make the elusive 2 and birdie the hole. To prevent our happy participants getting beaned by skulled shots, 4 different "zones" (eg. noon to 3:00, 3:00 to 6:00, 6:00 to 9:00 and 9:00 to 12:00) take turns chipping at the same time. If your approach shot is more than 20 yards from the green, you are out of the hole and are encouraged to hover around the green to cheer on your new found best friends.

Everyone who is on the green putts out beginning with those unobstructed by other players. Several waves of putts completes the hole. All balls that go in the hole count (even if they bounce off other balls).

Only birdies or hole-in-ones matter. Pick up after your 2nd shot which keeps things moving.

Bring (9) $1.00 bills for optional closest to the pin contest on EVERY hole. Instantly win up to $50 per hole!

If you make a hole-in-one, you win the Progressive Hole-in-One pot (grows each event if no hole-in-ones) AND people buy YOUR drinks and Uber ride if needed. We're reversing the dumb tradition of the one who gets the HIO has to pay for others drinks because that's just stupid.

All players use a DivotEND plastic hitting mat (available for rent or purchase at events) to protect the course from getting shredded and we fix all divots on each green before moving on to the next hole. We always leave a course looking BETTER than when we started.

GOLF CHAOS events are open to EVERYONE. Note, though, that the USGA and State Golf Associations will probably give you the stink eye for playing for fun and money. So if you plan on playing in USGA or State Golf Association events, may be best to just watch the Golf Chaos videos of others having fun and winning.

We place ACE cams on every hole with up to $10,000 in cash available if course offers a Swing King hole-in-one program! All hole-in-one shots and players will be immortalized in the GOLF CHAOS hall-of-fame videos.
UPCOMING GOLF CHAOS EVENTS
Friday, June 7 @ Southern Hills GC (Farmington, MN). 9 hole event (playing holes 1-9). $15pp for golf, cart & range balls. 6:30PM start…CLICK HERE to register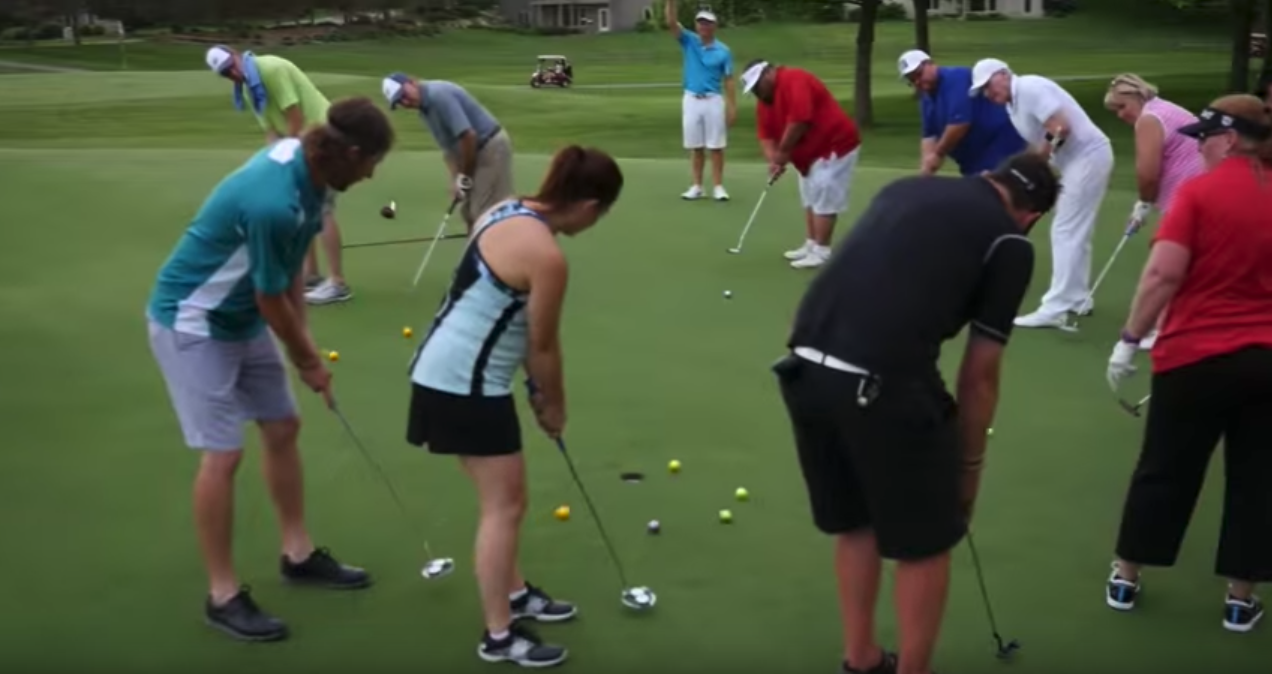 ADDITIONAL NOTES
Music is provided by the Head Caddymasters (aka Event Manager) via a Boom Box on their cart. If you don't like music or if noise "distracts you" during your swing, stay as far away from a Golf Chaos event as possible. To prevent 50 different songs from being played at the same time (remember we will all be together in a tight knit group), we ask all participants to leave the playing of music to the Caddymaster. Type of music played subject to the mood of the Caddymaster.

The megaphone carried by the Head Caddymaster can go off at any time for any reason. Including pointing out if you just hit the worst shot in the history of recorded golf. So if you are offended by insults to your golf skills, Golf Chaos probably isn't for you.

Bring $15 for the SKINS & HOLE-IN-ONE prize pools and $10 in $1 bills for side games with other players as side betting is encouraged (but of course not required or even acknowledged).

Bring a FLAT ball marker for marketing your ball on the green.

Courses are encouraged to offer drink specials during Golf Chaos events.

If you own or manage a course and would like to host a GOLF CHAOS event, contact Kevin Unterreiner at golf@golfchaos.com
Questions? Email us at golf@golfchaos.com
THANK YOU TO OUR SPONSORS